You are looking for ideas for corporate gifts for your employees, your customers or your partners. You are looking for clothing for your events, parties or an accessory to distinguish your hostesses at trade fairs or congresses.
You are looking for an elegant accessory for your hostesses and make them real ambassadors.You are looking for gift ideas to offer to your guests at a wedding, a ceremony or to accessorize your bridesmaids, pashmina is the ideal accessory for weddings.

contact@pashminacachemire.com or on the contact form
High-end customer gift
Idea for your hostesses and ambassadors to dress up.
The essential accessory for your hostesses during congresses, trade fairs and conferences.
The gift idea to thank your employees employees, customers, investors and partners throughout the year
Identify and thank your partners seminars evening and corporate events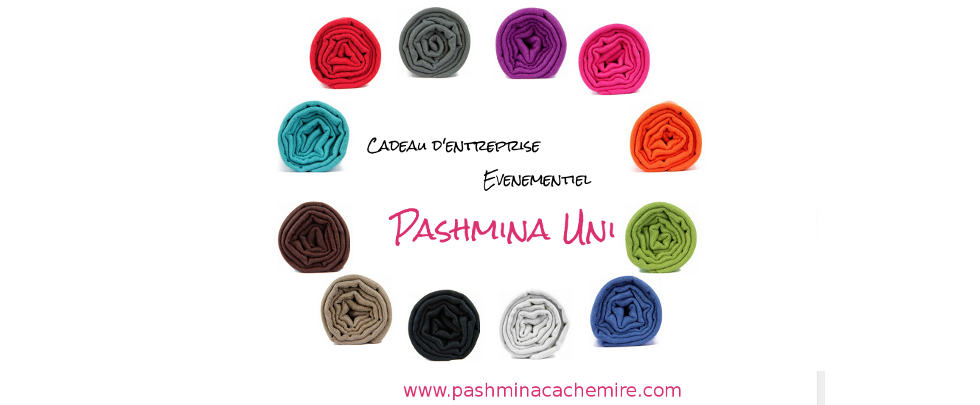 Personalized customer gift
Whether as a wedding gift, or for bridesmaids' outfits, pashmina is the perfect companion for your wedding.Kashmir is delighted to be able to accompany you in this happy event, just contact us.
Gift idea for your guests at the most important events in your life.
The must-have accessory for your bridesmaids.
If you represent a works council and wish to benefit from advantages, contact us now to take advantage of our works council offers on the products of our shop. For any request, contact us : contact@pashminacachemire.com or on the https://www.pashminacachemire.com/en/contactez-nous" title="Contact us">contact form
Luxury event gifts
As every year, it is necessary to think about the corporate gifts to offer to its staff, collaborators and customers. It's a question of pleasing everyone and not having to personalize the gift too much...especially if the team is big! So this year, think about pashmina, it's a gift idea that always makes a little impression.Pashmina...a quality, unisex corporate gift at an affordable price.Whether it's for women or men, pashmina is suitable for everyone. Whether it's for women or men, pashmina is suitable for everyone. Simply choose a neutral colour, such as black, camel or navy blue...and it will become a unisex fashion accessory. Of course, it will always be possible to choose more shimmering colours for a woman, but due to logistical problems, it might be easier to choose sober colours. Don't hesitate to have it embroidered in your company name or for a particular event. A trendy and affordable gift!
High-end corporate event gift
It's a fashion accessory worn by everyone regardless of style and gender, it's unisex and timeless. Just look in fashion magazines, pashmina is adopted by all ages and styles. It is the way it is worn that makes the difference. There are a thousand and one ways to fold and knot pashmina so that you can vary the pleasures every day with just one accessory. Women will have even more possibilities because they can wear it in their hair to create new hairstyles, around the neck casually or elegantly but also pashmina can be knotted around the waist to create a new style. As for men, pashmina can be worn in a chic way to match their office suits, but they can also be worn in a casual way to create a new style.